Medical Imaging Analysis Software EIRL Chest Nodule – Detection of Lung Nodule Candidate Areas from Chest X-ray Images New Model Released
Enhanced Detection Sensitivity and New Interval Change Display Function
Tokyo, Japan – September 21, 2021 – LPIXEL Inc., a leader in image analysis and processing in life science and medical research, is pleased to announce the release of the latest model of EIRL Chest Nodule[1], a medical imaging analysis software. EIRL Chest Nodule detects lung nodule candidate areas from chest X-rays assisting physicians with diagnoses, featuring enhanced detection sensitivity. LPIXEL applied for a partial change under the Act on Securing Quality, Efficacy and Safety of Products Including Pharmaceuticals and Medical Devices ("Pharmaceuticals and Medical Devices Act") and approval for the new model was granted on August 26, 2021. This latest model adds a new function where previous chest X-rays are compared and demonstrate the interval changes (increase/decrease rate) of the lung nodule candidate areas. LPIXEL submitted a notification of minor change as of September 17, 2021.
After acquiring marketing approval in August 2020 as a SaMD (software as a medical device) utilizing deep learning, the EIRL Chest Nodule has been introduced in medical checkup facilities, general hospitals, and other medical care institutions across Japan. Radiologists/physicians may interpret over 500 chest X-rays a day on their busy days.The EIRL Chest Nodule helps them prevent oversights of critical findings. Amid increasing utilization of the EIRL Chest Nodule in clinical settings, the software performance has always been enhanced by listening to physicians' feedback to ensure its contribution to clinical workflow without interference.
[Enhanced Function] – Enhanced detection sensitivity for lung nodule candidate areas
In a standalone performance test, the new model acquired an enhancement of over 12.2% in detection sensitivity compared with the current model[2].
For your reference, in an X-ray interpretation test comparing the current model to physician's unaided interpretations, the interpretation aided by the current model showed a 9.95% and 13.1% increase in sensitivity with radiologists and non-radiologists, respectively, demonstrating an enhancement in diagnostic accuracy[3].
<Example of a lung nodule which the new model detected, while the current model did not>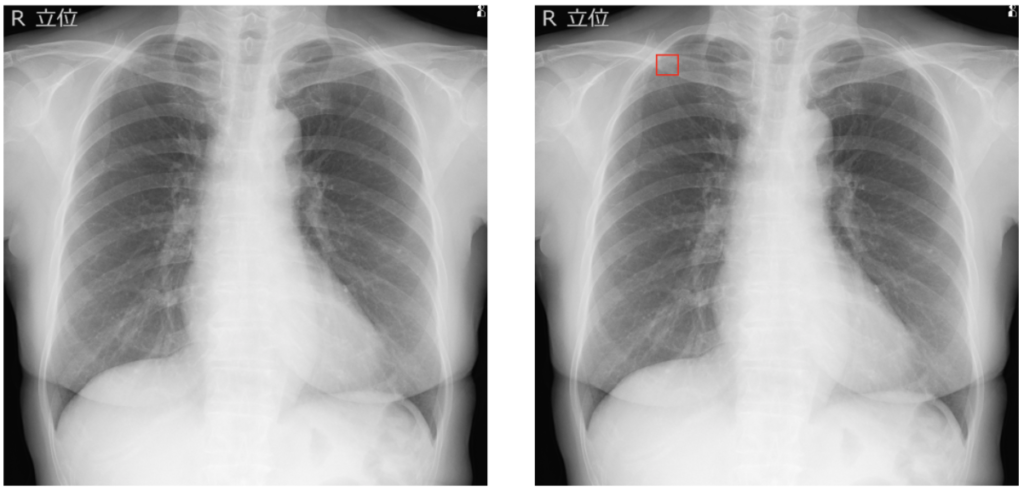 Left: Analysis result with the current model (EIRL 1.7). Right: Analysis result with new model (EIRL 1.9).
[New Function] – Detection of interval changes in lung nodule candidate area
A new function is to compare the patient's previous chest X-ray to the current one, and demonstrate interval changes (increase/decrease rate) of the lung nodule candidate area in a box. This display function is available for the following cases: (1) where a new nodular shadow is detected, (2) where increase or decrease in size of a known nodular shadow is detected, or (3) where a known nodular shadow is no longer detected.
A "nodular shadow" observed in a chest X-ray can include, but not limited to lung cancer, tuberculosis, pneumonia, or other lung abnormalities. It is important for interpreting radiologists/physicians to be able to find newly detected nodular shadows in comparison with previously taken images. Additionally, Interval changes such as growing shadows may need to be addressed as a referential indicator for a suspected lung nodule.
(Reference: The Japanese Respiratory Society https://www.jrs.or.jp/modules/citizen/index.php?content_id=65)
<Example: a current image (right) showing increase in size of lung nodule candidate area compared to a previous image (left)>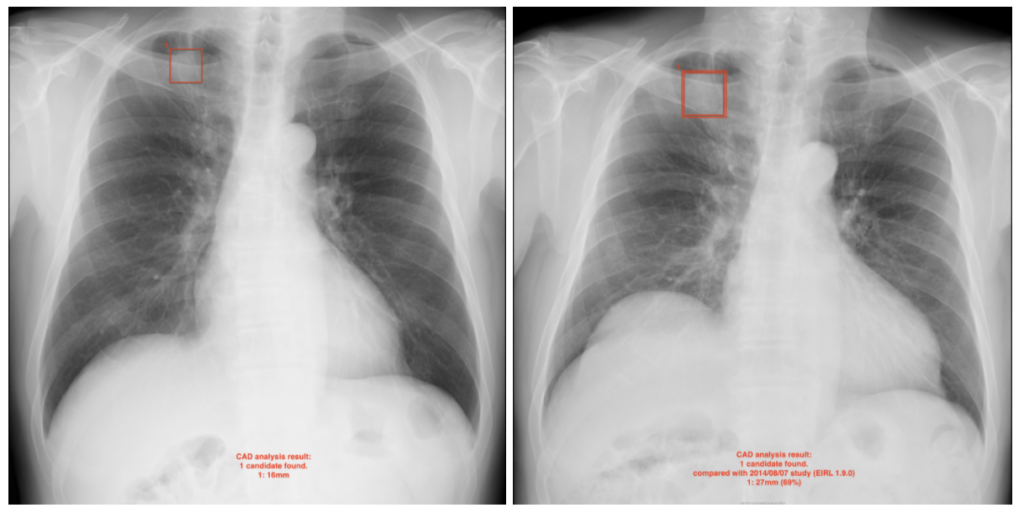 LPIXEL incorporates a slogan of "AI as a physician's close companion" in the research and development they perform day after day. The release of a product is not our goal ― clinical introduction uncovers a variety of issues. LPIXEL believes that facing and overcoming these issues brings us to a truly useful product for physicians.
LPIXEL will continue to respond to physicians' feedback and work on improving the performance of marketed products in accordance with relevant procedures.
[1]Product name:Medical Image Diagnosis Software EIRL X-Ray Lung nodule,Certification Number:30200BZX00269000
[2]Comparison of software standalone performance test results between current and new models Intersection over Union (IoU) of 0.01 or greater is deemed correct for lung nodules that meet the following conditions:
(1) Size is between 5 mm and 30 mm
(2) Solid, not Diffuse
(3) Shadow is close to a circle in shape
(4) Located within the chest and not overlapped with another organ
Sensitivity of 62.1% or higher
Sensitivity of 74.3% or higher
[3]Results of interpretation of chest X-rays of 67 subjects with findings of lung nodules and 253 chest X-rays of subjects with normal conditions using the current model (EIRL 1.7) with 18 physicians (9 radiologists and 9 non-radiologists).
(Result of sensitivity)
・Physician-only X-ray interpretation (no CAD)
Total: 45.44% Radiologists: 47.10% Non-radiologists: 43.78%
・EIRL Chest Nodule-combined X-ray interpretation (with CAD)
Total: 56.97% Radiologist: 57.05% Non-radiologist: 56.88%
(AUC statistics)
・Physician-only X-ray interpretation (no CAD) 0.7088 ±0.0474.
・EIRL Chest Nodule-combined X-ray interpretation (with CAD) 0.7688 ±0.0255
* Current model (EIRL 1.7) is used as the CAD in both cases.
About EIRL
EIRL is the collective name given to LPIXEL's AI medical image diagnostic support technology. LPIXEL aims to provide solutions that enable a faster and more accurate diagnosis by implementing its unique algorithms to analyze medical big data, such as brain MRI, chest X-rays, and colonoscopy. For more information, please visit https://eirl.ai/en/
About LPIXEL
LPIXEL is a leader in advanced image analysis and processing technology encompassing the life science field. Founded in March 2014, LPIXEL is dedicated to offering research facilities, top-tier image analysis technologies and medical diagnosis technologies, both of which adopt advanced AI technology. LPIXEL revolves around business such as its medical image analysis software, "EIRL," and its AI-based image analysis service for pharmaceutical R&D, "IMACEL."
For more information, please visit https://lpixel.net/en/
Contact Information
LPIXEL Inc.
TEL:03-6259-1713 Email:pr@lpixel.net