LPixel Announces Official Launch of its AI-Based Image Analysis Cloud Platform, IMACEL
Tokyo, Japan – June 28, 2017 – LPixel Inc. announced today the official launch of its AI-based image analysis cloud service, IMACEL. Designed for digital images in life science research, IMACEL delivers a user-friendly image analysis platform to help researchers new to image analysis extract quantitative data from their images, faster. With more features slated for release, IMACEL enables for the instant processing and analysis for a large volume of images, and is designed to drastically simplify and bring about a totally new experience to the image analysis procedure by allowing researchers to focus on more sophisticated research tasks.
■IMACEL Official Website
https://imacel.net/en
Background
With the rapid evolution of modalities and image-capturing technology in recent years, researchers working in the life sciences field, including the medical, pharmaceutical and agricultural sectors are presented with an enormous collection of scientific image data. Recent data reveals that images used in life science research alone have increased 100 fold in the past 10 years, and despite the fact that over 90% of life science-based research papers include images, only 1% of researchers learn how to properly process images during the course of their studies at university*. The above factors, in combination with the ever-increasing volume of scientific image data, have gradually transformed researchers into routine workers, who spend a considerable amount of time analyzing a large number of images, which has led to a decrease in overall work efficiency.
IMACEL Features
IMACEL's revolutionary AI-supported capabilities serves as a powerful facilitator in image processing and analysis, enabling researchers to extract important data from digital images, faster.
1. Fundamental Functions for Life Science Research
IMACEL is equipped with the basic functions required to extract useful information from life science images taken with microscopes and other image acquisition tools, such as cell counting and classification capabilities.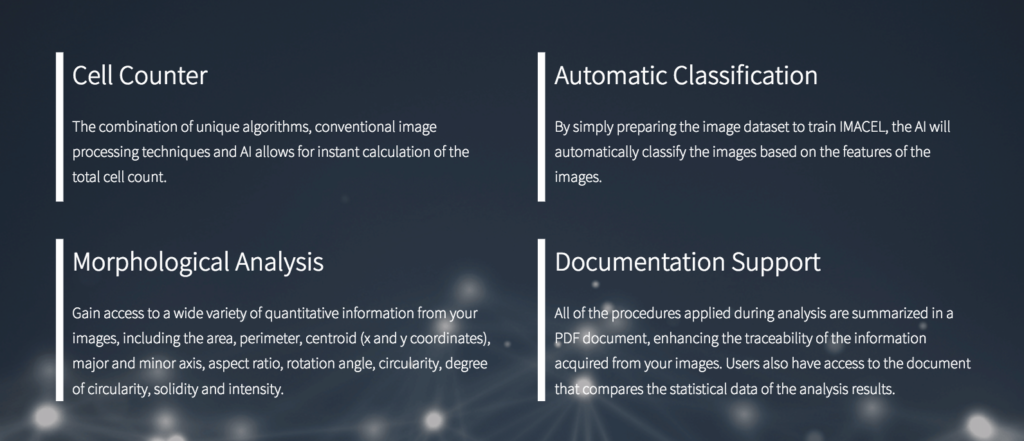 2. Simplified Three-Step Analysis
Extensive knowledge on image analysis is not a requirement when getting started with IMACEL's three-step analysis system. With the seamless integration of cutting-edge AI technology, IMACEL instantly generates a series of processed images, allowing researchers to simply click the images of interest to acquire the information they need.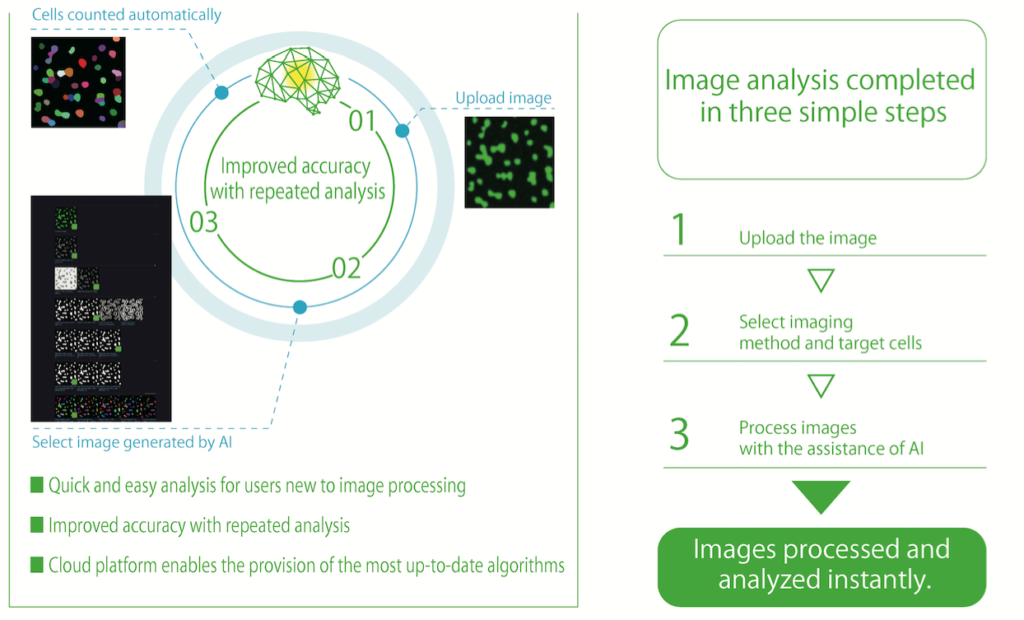 3. Updated Functionalities and Algorithms
Researchers do not need to fret about which PC they are using. IMACEL's cloud-based platform enables researchers to access the most up-to-date functions and algorithms for analyzing their images.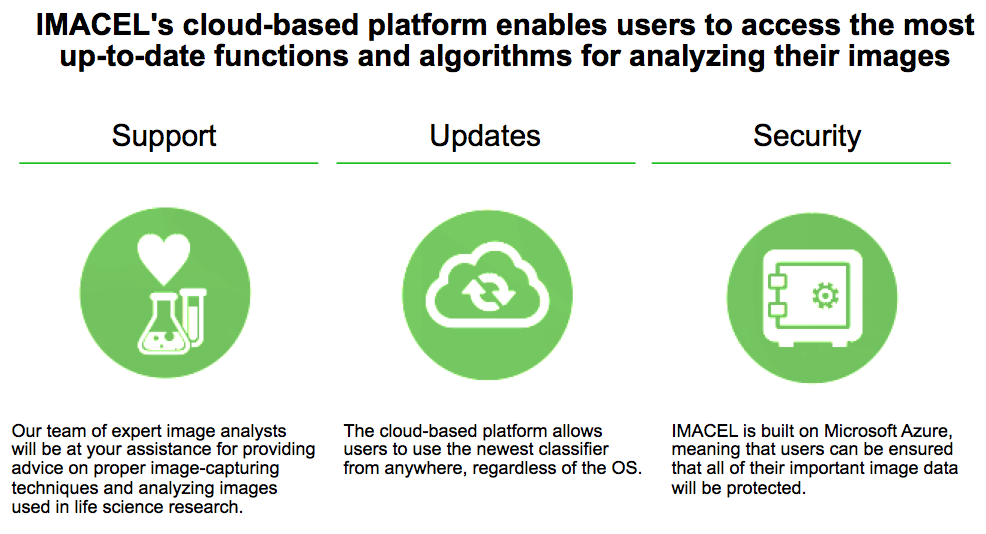 Previous Activities
IMACEL was awarded with the Jury's Special Award from Microsoft Innovation Award 2016. With vast support from Microsoft Japan Co., Ltd., LPixel was able to build IMACEL on one of Microsoft's leading cloud platforms, Microsoft Azure.
IMACEL's teaser site was launched in September 2016, the service has been provided free of charge to over 100 researchers working in various fields. IMACEL is intact with the essential features required to satisfy the needs of researchers.
Business Expansion
IMACEL was officially released for both global and domestic sales in Japan on June 28, 2017. LPixel will take part in BIOtech 2017 (http://www.bio-t.jp/), one of Asia's largest bio and pharma R&D events, which will be held from June 28, 2017 to June 30, 2017. LPixel will continue to make contributions to advance scientific research through its knowledge, expertise and extensive history in conducting research in bio imaging technology.
■Video
■Free Trial Account Information
https://docs.google.com/forms/d/1MX5Ng-9hJB_9LP5pouw7LfrPqPcEYmAHHmN5_F1bh6Q/viewform
* References:
1. https://lpixel.net/2016/09/16/3247/

About LPixel
LPixel, a spin-out venture from the University of Tokyo, is a leader in advanced image analysis technology specializing in the life sciences field, including the medical, pharmaceutical and agricultural sectors. LPixel is dedicated to offering researchers top-tier image analysis solutions that integrate AI technology. LPixel is currently working with the National Cancer Center Japan to further the research and development of its AI-based medical diagnosis software. For more information, please visit https://lpixel.net/en